Réserve des Armoiries - Côtes du Rhône - Demazet - 2020
The Réserve des Armoiries is a wine with a strong red dress that comes from Domaine Demazet.
This Côtes du Rhône has a nice frank and clean nose, with raspberry aromas and spicy notes. The mouth is balanced, full, supple and fresh.
This 2020 vintage is mainly based on the diversity of terroirs, grape varieties and the age of the vines.
This seductive red wine will be perfect to accompany salty pies, grilled meats, white meats or sweet cheeses.
100% secure payments
Food and wine pairing: Grilled meats, white meats, salted pies and cheeses.
Year: 2020
Taste: Fruity and supple wine.
Tasting: 15/16°
Volume of alcohol: 13.5%
The Estate and the Vineyard
The Demazet vineyards come from two large vineyards in the Rhone Valley and cover more than 225 hectares of vineyards. The great diversity of grape varieties of the vineyard allows to give birth to elegant, fine and powerful wines.
Demazet vineyards allows to consolidate the snack of both wineries by becoming a symbol of commitment of quality and shared values.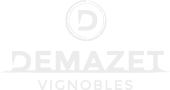 Data sheet
Région

Rhône

Millésime

2021

Colour

Red

Producteur

Vignobles Demazet

Volume d'alcool

13.5%

Contenance

75 cl