Champagne Jean Noël HATON - Brut Blanc de Blancs
The Brut Blanc de Blancs champagne from Jean-Noël Haton is made from the blend of 100% Chardonnay, of which 5 to 7% is vinified under wood, having aged for at least 7 years.
The nose has fresh aromas of redcurrant, peach, apricots and citrus such as grapefruit and orange. A complexity escapes thanks to spices and a touch of dried flowers.
It is a fresh and generous champagne with a lively finish, all in elegance and with a nice balance.
After an aging period of 6 to 8 years, the Extra Brut Blanc de Blancs is powerful and delicate. It is a champagne of connoisseurs. 
100% secure payments
Food and wine pairing: As an aperitif, with fish or white meat.
Taste: Generous, well balanced and powerful champagne.
Tasting: 8/10°
Volume of alcohol: 12.5 %
The Estate and the Vineyard


The Jean-Noël Haton champagne house produces champagnes according to traditional and methodical practices. It is an independent family farm located in Damery. It exists since 1928 and has its own vineyard in the best vintages across 18 hectares.
Awarded many times, the Haton House has experienced an incredible growth since the 1970s and continues to prove its excellent today.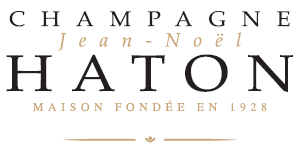 Data sheet
Région

Champagne

Appelation

AOC Champagne

Colour

White

Maison

Jean-Noël Haton

Volume d'alcool

12.5%

Contenance

75 cl

Conseils de service

Entre 8° et 10°C

Conseils de conservation

3 à 5 ans

Cépages

Chardonnay
100% secure payments