Côtes du Rhône - CDO - Dédicace - Domaine Fabre - Rouge 2019 - CDO
This Côtes du Rhône red, was bottled at Domaine Fabre. It was created in collaboration with several families of winemakers, by "Henri Fabre Domaines & Châteaux".
Presented in Bourgogne bottle, the Dedication wine is exceptional, fruity and pleasant.
The Grenache variety also brings an elegant suppleness that satisfies the female palate, giving it a slightly peppery taste that gives it length, the flexibility to enjoy it fresh with grilled food on long summer evenings.
The tannins are sweet and harmonious, giving this delicious nectar a great finesse and delicacy, making this Côtes du Rhône a charming wine.
Its terroir, covered with pebbles, represents the wines of the Rhône.
100% secure payments
Food and wine pairing: Grilled red meats, Game, Poultry, Cheese.
Year: 2018
Taste: Wine of pleasure, pleasant, fruity to the taste of blackcurrant, slightly peppery at the end of the mouth.
Tasting: 17/18°
Volume of alcohol: 14.5%
The Estate and the Vineyard
Domaine Fabre in Provence was created in 1920 by Mr. Henri Fabre. Subsequently, upon the acquisition of the Château de la Clapière in 1928 and then the Château de l'Aumérade in 1932, M. Fabre devoted himself exclusively to his castles. It was one of the first to have its own bottling line and worked for the fame of the Côtes de Provence.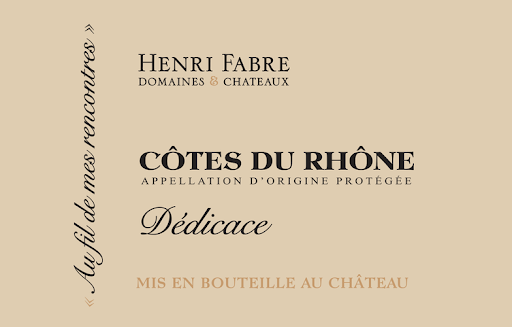 Data sheet
Région

Rhône

Millésime

2019

Appelation

AOP Côtes-du-Rhône

Producteur

Domaine Fabre

Volume d'alcool

14.5%

Contenance

75 cl

Cépages

Grenache noir, Syrah et Mourvèdre
100% secure payments